License Keys
fmFlare requires a License Key to use. You receive this key when you create an account, and can access it at any time via your fmFlare account's Purchase History (click View Licenses, then click on the

icon).
The easiest way to set this up is to copy the "Send fmFlare Request" script from the Examples file and adapt it for your usage.  You will use this for every fmFlare call; all of your fmFlare integrations will go through this script, which appends your license key every time.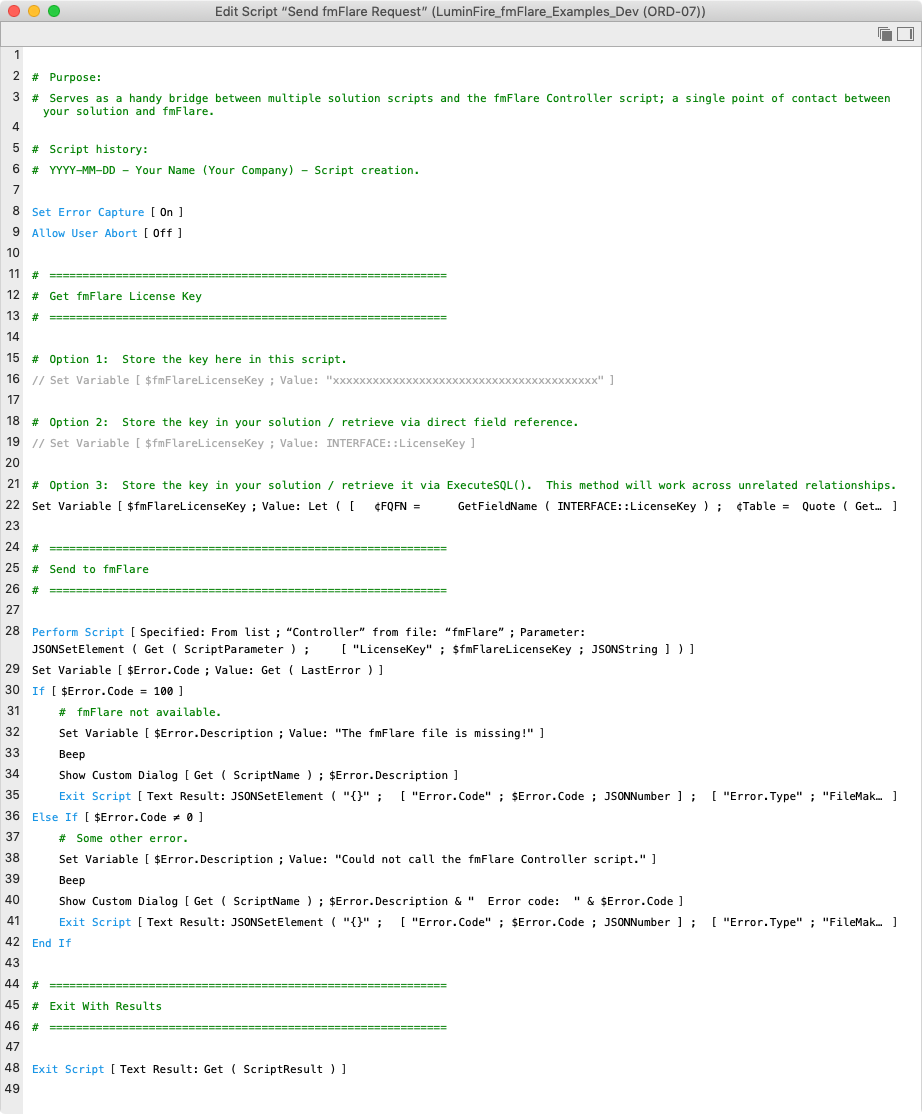 If you are using fmFlare v2.5 or later and the above method, you can skip the Sessions section below and proceed to Usage.
Otherwise, continue reading…
---
Sessions
If you are running a version of fmFlare prior to 2.5, you must become familiar with the concept of opening a "session" with fmFlare before you call any functions:

Sessions are unique to each individual client.
Sessions end automatically when the fmFlare file is closed.
If you try to call fmFlare without first starting a session, you will get this error message:
Sessions prevent unauthorized users from using fmFlare; you can control who has access to this from your parent solution.
Now that we have a License Key and understand what a "session" is, let's make sure your parent solution can activate fmFlare.
Find the "Start fmFlare Session" script in the Examples file and copy / paste into your parent solution:

Update the script to either:
A)  Store your fmFlare License Key directly, in the script variable (script step 13), or
B)  Grab the License Key from a stored location in your solution using ExecuteSQL() (script step 15).
Call this script once, when you startup your solution for each client.  Put it in your "Auto Open" or "Startup" script.
fmFlare will be activated the first time a session is started.
You are now ready to start calling fmFlare functions!